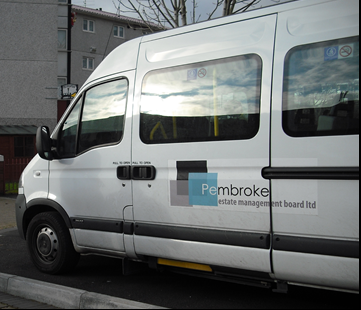 "Pembroke Street Management Team loaned the bus out to the Welcome Hall on Christmas Day for several years.

   We were able to offer a special festive day, not only to local residents but city wide too as we could offer transport.

   The people who attended the Christmas lunch festivities would have been on their own if it wasn't for Pembroke Street Team and the minibus."

               Glynis Lidster, Manager of Welcome Hall
Community Minibus   
Part of the legacy left to the PEMB from the closure of Devonport Regeneration Company was the community minibus.  The minibus has been invaluable in enabling PEMB to use for staff away days and numerous community organisations to have day trips, attend events and even collect people to meet for Christmas lunch! 
HIRING THE MINIBUS
Constituted community groups, charities and other Third Sector organisations are able to hire the minibus. 
If you are thinking of hiring the minibus, please enquire with the Estate Office about the costs associated with hiring the minibus. Telephone 01752 607277 or email admin@pembrokestreet.co.uk.
There are certain criteria which need to be met before hiring can be permitted.
All drivers must possess a valid driving licence
Only drivers aged between 25 and 80 will be eligible to hire the minibus
All drivers must make PEMB of any changes to their licence conditions – approved licence categories, medical conditions, legal proceedings for motoring offences, disqualification from driving and penalty points. Please note: If a driver has over 6 penalty points then he/she must be authorised by the insurance company. The insurance company have the final word on this matter.
All drivers must sign a driver's declaration form.
RESPONSIBILITIES OF THE DRIVER
Please view the documents below to find the list of responsibilities associated with hiring the minibus from PEMB.