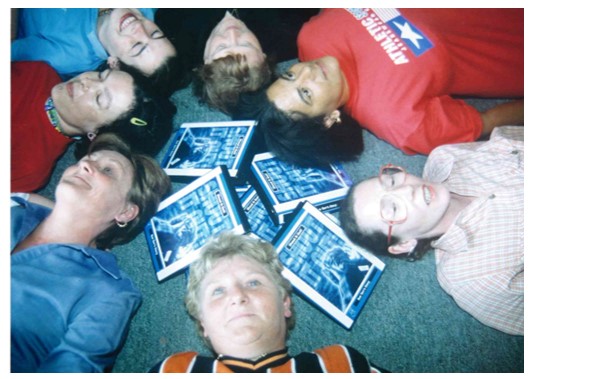 Shout It Out Literacy Project   
The Shout It Out Literacy Project was an initiative based on the lived experience of Pembroke Street resident, Sue Torr.
At the age of 15, Sue left school barely able to read and write. Using clever avoidance techniques, Sue was able to keep her illiteracy a secret until an event at the school, where she was a dinner lady, encouraged her to get support to learn to read and write.
Sue found courage and spoke to the Parent Education Worker at the local primary school where her youngest son attended. From that moment on Sue's life began an amazing journey.
Sue returned to the classroom in her late 30's to learn the basic skills that she had missed out on in her younger years. Her Adult Education Tutor suggested that she wrote down her experiences of being illiterate – these notes became the foundations for a very powerful play based on Sue's experiences.
The play, Shout It Out, was performed across the country with other local adults from the adult literacy group  in schools, prisons, community centres and universities. It won awards including a Royal Television Society award for best corporate video, a Sony Radio Award and a UNESCO award for Literacy.
The project went on to further develop, spreading the message far and wide, mainly through work in schools. New adult literacy groups were established in other city schools and children were encouraged to develop an interest in reading with a number of initiatives including after school clubs and reading schemes, set up and run by the project.
Another unique project during the 1990's saw the project collaborate with the Wolseley Community Development Trust in neighbouring North Prospect where summer theatre groups were held during the school holidays.  This ambitious dual site project involved theatre professionals and teachers working together with young people to devise a new version of a popular story for performance to the community. The project also involved writing songs, making costumes and scenery and a full technical set up, with young people involved at every stage.  The shows were then performed at a number of venues, including an outdoor performance at the Greenlink arts space in Devonport.
Another notable project saw local people – including Sue Torr –  collaborate to write another ground breaking play called 'The Pub' which captured anecdotes from local pubs and turned them into a hilarious play which was performed to critical acclaim at the Plymouth Theatre Royal and City College Plymouth.
Sue was awarded an MBE. She remains a Pembroke Street resident. 
Read more about Sue:
A Family Affair: Written Off? Not My Mum